If you are new (or even an experienced growers) getting the best products for setting up your new grow project is crucial.
There are plenty of new grow light come and go in the market these days and you have a plenty of options to choose from but selecting the best one (based on the real customer reviews) are hard to find yourselves.
1000 Watt LED Grow Light Comparison
King Plus 1000w LED Grow Light

Double Chips, Full Spectrum with UV and IR
Coverage Area: 3.4 x 3.8 ft
No extra ballast is needed, plug and play
BESTVA 1000W LED Grow Light

Double Chips, Full Spectrum

Coverage Area: 5.1 x 4.7 at 24" height
No extra ballast is needed

VIPARSPECTRA 1200W LED Grow Light

Input Voltage: AC100-240V
Veg: 4.5 x 4.5 ft at 32" height, Flw: 3.5 x 3.5 ft at 24" height
No extra ballast is needed

Factors to Consider When Buying a 1000 Watt LED Grow Light
Actual Wattage in Use
You need different color lights at different plant's stages. When your plants are in Vegetative stage they normally doesn't need full light wattage, compare to the flowering stage when plants are more light hungry.
So while choosing the 1000w lights make sure you have control over the wattage i.e. you can switch off some LEDs (or dial back their intensity) when they are not needed. That will not only product great yield but also save your money in electricity bills.
Spectrum
Make sure the grow light is full spectrum.
Output of the Light
Not all of the lights will product 1000 watts no matter what the manufacturer is claim. Normally a 1000 watts LED will equal to 900 watts of HPS light. There are some fixtures that do deliver what their manufacture is claiming but you have to buy with caution.
Grow area coverage
Make sure you put the correct light under proper coverage area and make sure you know basics of how much light needed at different stages of a plant's life.
Canopy Penetration
This is again take with caution because almost all manufacturers claim their LED grow lights will  penetrates deeply below the canopy as other grow lights, such as HPS or Fluorescent light, but that is not the case always.
We can help you pick the best for your business. See our overview of the best 1000W LED Grow Lights.
#1 King Plus 1000W Double Chips LED Grow Light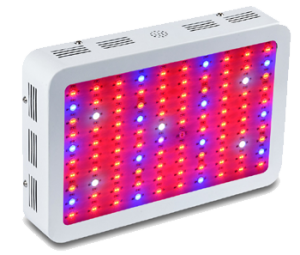 Energy efficient, cheap and durable LED grow lights are gaining more popularity as a source of grow light for both new and professional plant growers.
However, the wave length of certain plants are different from others, it is often advice to buy LED grow lights that provides full spectrum as that of sunlight, which is a need for plant growth and one can't talk about LED grow light without mentioning King Plus 1000W double chips full spectrum LED grow light for Greenhouse and indoor plant flowering growing (10w LEDs).
As it name implies it's a King in the LED grow light industry with pretty amazing features to grow and keep your plants healthy.
It features 10W LED dual chip, Full Spectrum that protect your plants from pest and kills bacteria, disperse heat better with its unique structure and by far the most affordable LED grow light.
#2 BossLED 1000W LED Grow Light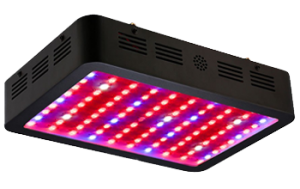 BOSSLED 1000 watt led grow light delivers the most reliable and truly full-spectrum (365-750nm, UV to IR) light. It is uniquely designed to distribute light and dissipate heat effectively.
It's high output double LEDs provides better canopy penetration, modern and one of the best heat cooling system needed for spectrum stability and prolong LED life span, it incorporates beat HTS/MS and the traditional LED growth light for more efficient yield thus producing high quality flowers and saves cost on electricity, bulb and reflector replacement.
With BOSSSLED you are free from hazardous waste disposal because it doesn't contain any high toxic substances unlike the traditional HID induction bulbs.
#3 ViparSpectra 1200W LED Grow Light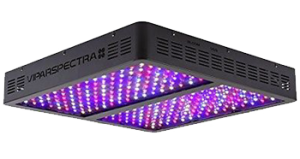 VIPARSPECTRA 1200W LED grow Light is an upgraded version to the existing reflector series of VIPARSPECTRA LED grow light with enhanced features.
This state-of-the-art LED grow light is used for basically all stages of plant growth, It boasts of enhanced spectral output offering full PAR, high-speed fan in the heat sink for fast cooling that works pretty well and quietly, better light penetration through its output/PAR balancing, better handles for installation.
All LEDs has a zener inside to ensure maximum output and prevent other lead from going off if one is bad thus continue to work well. High power 5W Bridgelux/Epistar LEDS with low power consumption rating.
With VIPARSPECTRA 1200W LED Grow light you have longer working time and life span, minimum energy consumption and environmental protection.
#4 Master 420 Grower 1000 Watt Professional Hydroponic Grow Light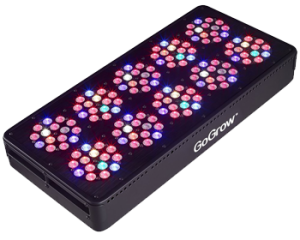 One of the greatest pleasures derived by growers is to perceive and see their plants buds grow. The Virgin 3 is the best option available providing growers with the platform to actually watch and experience plants growth at any place or time.
V3 as it's popularly known is basically made for growing marijuana in greenhouse, grow plant or room, featuring a high power LED which ensures low electricity consumption and energy-saving, dual optical lens to improve canopy penetration, unique design making its part easily replaceable.
Finally, it provides the maximum amount of photosynthesis active radiation (PAR) needed by plant, this is done by optimizing the required light and eliminating the harmful light thus suitable for vegetative flowering, cloning and generating crystal resin.
#5 Black Dog Phytomax 1000 Watt LED Grow Light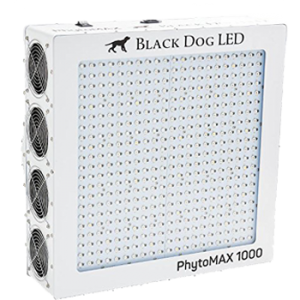 The PhytoMAX 1000 watt is by far the most powerful LED grow light trending in the market. This unique LED grow light improves plant growth by supplying a fully optimized illumination spectrum designed solely to enhance plant metabolic rate.
It delivers about 1015 true Watts to 2205 LED watts of full spectrum which is made possible by Black Dog LED's high quality Phyto-Genesis Spectrum and as an alternative for most double-ended 1240W HID grow light.
With the built-in 441 High output 5w LEDs, the Black Dog LED PhytoMAX 1000w provides your grow room with the light intensity required for canopy penetration thus protecting the leafs from burns.
Black Dog LED PhytoMAX 1000 watt is clearly the best providing full luminosity and energy efficiency.
#6 HollandStar LED Grow Light 1000 Watt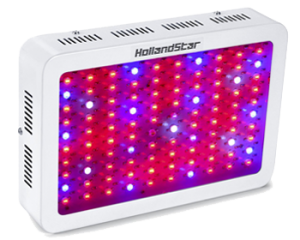 Have you considered switching from the traditional HID to LED grow light? If you are in process of that you should also consider purchasing 1000 watts HollandStar LED grow light. This amazing LED grow light surpasses the features of grow lights produced by big brands.
It's fully loaded with 10W specially designed LEDs to give you maximum PAR value, save energy consumption and uniquely engineered to be environmental friendly.
That's not all HollandStar LED grow light 1000W comes with both ultraviolet and infrared that sterilize and improve plants growth.
HollandStar ensures that the required amount of light needed for your plants is supplied through its ratio of red and blue ray thus provides a good light environment for your plants health and growth.
#7 YeahPlus 1000 Watt LED Plant Grow Light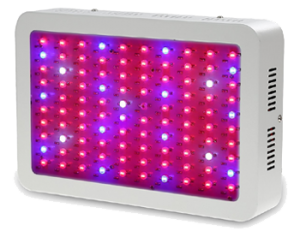 Plant growth light environment is an important factor in regulating and controlling plant morphogenesis. With so many LEDs grow light flooding the market you would want to consider getting Yeahplus 1000W LED Plant Grow Light for efficient flower growth.
With 10W Double Chip as opposed to 5W used by its predecessors it brightens and provides a longer life span for your vegetables. It perfectly fits in the grow tent and generates low noise compared to other LED grow light.
This unique LED grow light is able to grow plants at any stage whether development or flowering and strengthens your plants through its enhanced spectral output offering full Photosynthesis Active Radiation (PAR).
Recommended Read: