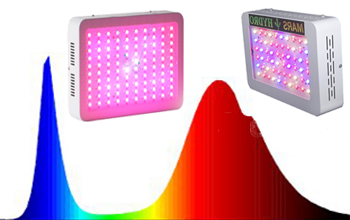 If you are a hydroponic enthusiast or a seasonal indoor plant grower, then you must know how important full spectrum LED grow lights are for your plant's growing or fruiting life cycle.
LED lights slowly but surely growing popularly among the indoor planters due to their energy efficiency, inexpensive, easy to use and setup.
LED lights life is 2 or 4 times longer than the traditional lights; they are also much cooler than their counterparts, HID or fluorescent lights, which not only reduces the need to use fans to cool your grow area but also less water evaporation.
Our Recommended Top 3 Best Full Spectrum LED Grow Lights
Roleadro 300W Full Spectrum with UV & IR for Veg. & Flower

Full Spectrum with UV & IR
Core Coverage (at 24" Height): 2ft x 2ft
Max Coverage (at 24" Height): 3ft x 3ft
quiet cooling fans and aluminum heat sinks
King Plus 1000W Double Chips Full Spectrum for Greenhouse

Full Spectrum with UV & IR

Worldwide Voltage: 85v-265v
Coverage Area: about 3.4 x 3.8 ft
Indoor use only, No waterproof

Efficient heat dissipation - holes on the led board & glass form convection with fans
Advanced Platinum Series P150 Dual Veg./Flower Full Spectrum

Full Spectrum with UV & IR

Voltage - AC85v-260v - International cords available
45ft x 35ft coverage at 18" height
12-Band Spectral Output of complete light

LEDs and product made in America
What is Full Spectrum LED Light?
In order for Plants to grow and complete their life cycle they need all sorts of light from depths of ultra-violet (UV) to the heights of infrared (IR).
A full spectrum LED light is one which may produce light throughout the entire spectrum.
The Sunlight is considered to be full spectrum thus we normally don't need any lighting system or anything for the plants to grow in the open (outdoor).
However in case of indoor growing, where Sunlight normally can't reach the plants, we need to use Full Spectrum LED Grow Lights to make a natural atmosphere for plants where the LED grow light provides all sorts of lights for the plants to grow, the LED grow light emulates as natural light.
Diverse lights for plant's different phases
Some plants grow better when given more of a certain color light, due to the mechanism of photosynthesis.
Specifically more blue wavelengths enhance vegetative growth and development, while the addition of increasing amounts of red light enhances growing, flowering and fruiting.
For more info on lighting read this article.
What are the Cheap & Best Full Spectrum LED Grow Lights available in the market?
We hear from many indoor growers about what's most important to them while choosing Full Spectrum LED Grow Lights for their indoor gardening. The more influential factors are:
Size of indoor growing area
Plants you growing
Using for vegetative growth or flowering stage
Money you want to spend
We've picked the top 5 full spectrum Grow Lights which have good customer rating and are cheap, after all who don't want to save some money!
And off course these are suitable for all sorts of setup, small, medium or large one.
The best 5 grow lights fighting for getting your attention and to come up on the top of the chart, note the list is not in a particular order.
Top 5 Full Spectrum LED Grow Lights Reviews 2019
Our Recommended Product
1. Advanced Platinum Series P150 150w 12-band, Full Spectrum LED Grow Light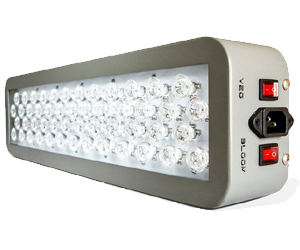 The Advanced Platinum Series P150 grow light features highest PAR per watt of any other LED grow light in this rang. This 150w grow light can easily replace typical 250w HPS grow light.
The light feature 12-band full spectrum giving the plants 100% usable light that is perfectly adjust to create utmost photosynthetic response.
The light uses latest technology that ensure maximum yield with minimum power usage and generate less heat.
There are a switch from which you can select VEG/FLOWER. The 2x high speed whisper quiet fans and aluminum cooling heat sinks makes this light perfect fit for your growing tent.
It can  easily cover 45ft x 35ft at 18″ height perfect for tight, compact applications!
And what makes it more buyer friendly is the 5 years warranty with 90 days satisfaction or return guarantee that you normally won't find with other grow lights!
2. Galaxyhydro LED Grow Plant Light 300w 9 Band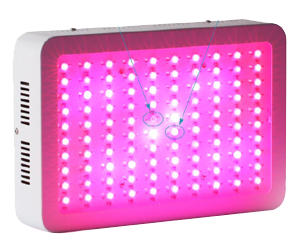 The Galaxyhydro 300w light is both economical and reliable for small to mid size indoor garden area.
Its recommended coverage area is 6 square meters per light. The light can also produces IR (infrared) which help increases the yield.
The unit has 2 fans which not only keep the unit cool but also increases the working time of the light – it can work 18 hours a day without overheating.
This is a full spectrum light that will help grow your plant go through its full life cycle easily.
3 – Lvjing 10W LED Strip Grow Light DC 12V Aluminum Shell
The Lvjing strip grow light is a bit different in design then the other grow light, it comes in a stripe.
Each of this full spectrum led grow light is comes with 10w per unit (there are total 5 item included).
The body of the item is built with aluminum, makes it perfect for the indoor planting. If you have a custom required the company is offering a customize LED grow light based upon your request, this is a great feature and most of the other competitors won't offer this.
There are few cons of this item tough, first the item takes longer time to deliver at home due to its made in china, second this grow light requires a 12 V adapter to use to use that unfortunately didn't included in the item, you have to purchase the battery separately.
Overall if you are looking a cheap grow light, the Lvjing full spectrum LED dual band light is a perfect and can be cat much like larger LED grow lights.
4 – Erligpowht 45W LED Red + Blue indoor plant grow hanging light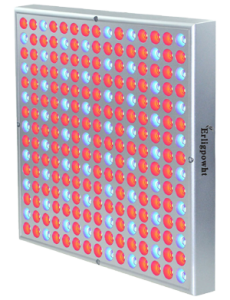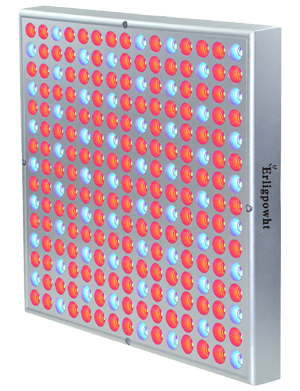 Erligpowht 45W model has a wide coverage area with a chip-set of 225 LEDS rated for 50,000 hours of use and comes with a hanging kit that's hangs well enough anywhere you want.
This model comes with features such as ABS plastic material molding, built into the plastic port, back of the shell is made of 2.5mm thick paper, and thick aluminum plate makes it sturdy.
The only issue with this led grow light is not waterproof, so make sure you keep it away from water, otherwise it will cause damage to the human body or lamps.
In general this is an excellent full spectrum light for a wide range of plants and applications. read full review here.
5- MarsHydro Mars300, 132w Veg. & Bloom Spectrum for hydroponic garden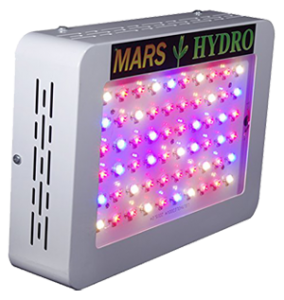 MarsHydro is a reputed name in producing LED grows lights at an affordable price since 2009.
The Mars300 provides the full light spectrum needed for both vegetative and flowering.
With 5 watt high intensity Epistar chip, stronger penetration, higher Lumen excellent for increasing crop.
It features big cooling fans, better heat dissipation, and bigger aluminum heat sink.
This light has 60 LEDs of 5 watt, the 5 watt LEDs in their particular spectrum are so powerful, it's great for the plants.
The LEDs are laid out in such a way that more geared towards full spectrum than being red-heavy for blooming. The light is still (obvious) pink, but there's more white and blue for vegetable growth.
MarsHydro also sells Mars600 with 120 LEDs grow lights for larger indoor garden or grow tents.
In the End…
We hope these reviews will bring home the point that high quality LED grow lights with features that can be hard to find few years before, now you can get them at decent prices.
Now is a good time for you to start pondering the pros and cons and decide which is the best full spectrum grow light for your next indoor growing project.
Watch the Video – Full Spectrum Grow Light Comparison
Recommended Read: