What is a Grow Light?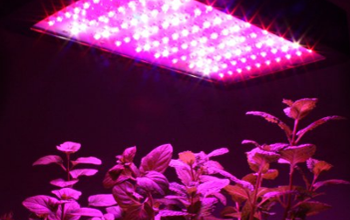 A LED grow light is regarded as one of the essential and an effective tool in growing indoor plants.
Along with the development in the field electrical components and especially LED lights & related components in marketplace, there are number of different LED grow lights available in the market to choose from.
It's an easy pick for the people who are in the growing field for a long period of time but for most of the people who are new to the indoor growing arena, it's a difficult task to choose the right LED grow lights.
Review of LED grow lights
Click on a link to read detail review of each product:
However, if you don't want to regret on your grow light purchase later, you need to become a smart purchaser. For you to be a smart purchaser you need to be aware of every aspect of the product you are buying.
It is necessary for you to consider different attributes of the product(s) before choosing the best one.
We are here to help you make you a smart purchaser by proving you information about best led grow lights available in the market so that you find and buy the right item, which will give you the best value for your money.
How to choose the Best LED Grow Lights 
Read along this comprehensive guide to buying the best LED grow light for your next indoor growing project. Find the best features to look for, best brands available, and the right type of grow lights that will fulfill your requirements.
We are not discussing about LED vs. HPS, LED vs. CFL, and LED vs. MH etc. These all lights are proficient of growing quality plants indoor.
If you want to read more about the difference between these lights click on the respective link above and read more about the differences.
For now we are considering that you already set your mind to buy the LED instead of the above mentioned lights. So let's get started to finding prefect lighting solution for your indoor gardening.
Things to Consider Before Buying Best LED Grow Lights
What budget are you ready to spend
Size of grow space
what are you growing (style of grow)
Top Ten Best Selling 
Model
Wattage
Coverage Area
King Plus 1000w Double Chips Full Spectrum LED
1000w
3.4x3.8 ft
MarsHydro LED Grow Light for Indoor Plants Growing
1200w
Core Coverage: 2x2 ft
Max Coverage: 3.5x3.5 ft
LED Grow Light 1000W for Medicinal Plants
1000w
2.5x2.8 ft
Roleadro Galaxyhydro Series 1000W with UV & IR
1000w
Core Coverage: 2x2 ft
Max Coverage: 3x3 ft
Viparspectra UL Certified Reflector-Series 600W
600w
2.5x2.5 ft - 3x3 ft
ViparSpectra UL Reflector Series V300 300W
300w
1.5x1.5 ft to 2x2 ft
Phlizon 600W Full Spectrum Double Switch LED
600w
2x2 ft
BESTVA 1000W Dual-Chip Growing Lamp
1000w
5.1x4.7 ft
Advanced Platinum Series P300
300w
4.5x3.8 ft
MARS HYDRO Reflector 480W Led Grow Light
480w
2x3 ft
Price
Grow lights can range from $20 – $2000+. You should decide on a price range that you are thinking to spend on and consider it as a long term investment.
Note that some people think expensive items are of good quality but that is not the case with this product, sometime cheaper products is better than the costlier one.
Maintenance Cost
Before buying a grow light, check how often you need to replace its bulbs (LEDs) and the cost of replacements.
Changing the LED lights, when needed, are not expensive but you would be wise to know their costs and be sure of easy availability.
Size of the Grow Space
This is very important factor for choosing the grow light, the area of plantation.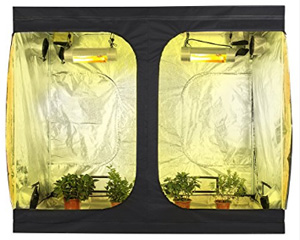 You can't just pick any light, first you need to calculate the area and buy the light with precise watts.
You won't get a great crop if you either put less or more watts of light.
For example, find out watts (W) of light an area needed to properly grow plants in 1 square feet, and then calculate the area of plantation.
Use below equation to get the total watts needed for a growing area.
Area (in square feet)    x    Watts per square feet    =    total required watts
So suppose you have an area of 5 x 5 that is 25 square feet, we know that about 30-50 watts of light is sufficient to produce plants in one square foot, so use the above equation to calculate the amount of watts needed to cover the 100 sq. ft. plantation area. Note we assume 40w/sq. ft.
25 x 40 = 1000
You need 1000 wattage of lights to cover 5 x 5 plantation areas. If you follow this equation and put the precise lights, then you will get the optimum result from your led grow lights.
What are you growing (Style of grow)
This is yet another important factor you should consider while buying an LED light. Every plant is different in characteristics of size, height, and various aspects needed to grow properly.
Each plant needs various ranges of lights, you should first find out what type and how much light is needed for a plant to grow properly. The light source should match as much as possible the needs of the plant.
In that case, if you buy a light with low watts or with dissimilar bands or spectrum, then you may not get the desired output.
More information about LED Grow Lights
Look for the LED lights that support more bands so that can be utilized for growing various plants also look for the presence of UV (ultraviolet) and IR (Infrared) bands.
We did not find LEDs in the precise spectrum range that the plants need, so we must at least find LEDs which are the closest to the maximum in the curves.
Have a look at this image for what a light spectrum look like.
Review of Top 3 Best LED Grow Lights in 2023
Amidst the vast array of LED grow lights available, deciding which one to purchase can be a daunting task, especially for novice indoor growers. However, fear not, for making the right choice can significantly impact your growing endeavors.
Opting for a high-performance light and selecting a top-tier product will undoubtedly yield worthwhile results in your indoor cultivation journey.
To help you get started in buying the best LED grow lights, here are the top 3 grow lights hydroponic gardeners buying like a hot cake on Amazon. Learn more about the features and benefits of each one, and choose the right one that fits your needs.
1. TaoTronics LED Plant Grow Light Bulb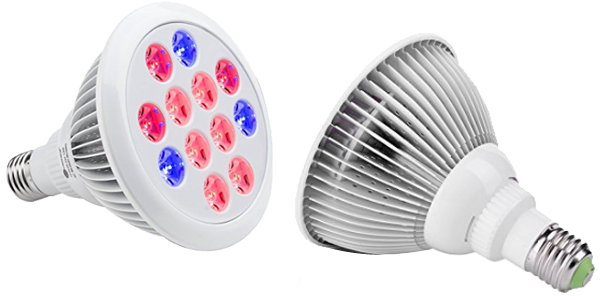 This is the best selling LED grow light on Amazon(as of writing this review). The TaoTronics E27 growing lamp comes with 1 year guarantee. Its 12w that cover area of 2.7-10 square feet.  The lamp emit the wavelength of light which can be fully absorbed by the plants photosynthesis, no energy is wasted.
It doesn't waste much light due to this it is much more efficient and suitable for all stages of plant's growth, no matter if its flowering and fruiting stage. TaoTronics E27 is suitable for a small home garden.
Aside from the good quality LEDs, it also have the ability to keep the heat off plants by using a grade aluminum and by using a unique heat sink, the LED maintains a cooler temperature even after 24 hours of continuous use.  its lasts far long than the traditional grow lights.
2. Miracle LED Absolute Daylight Spectrum Grow Light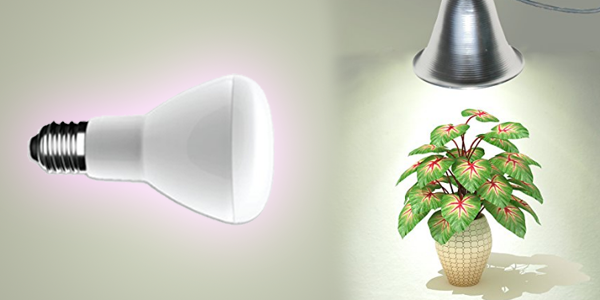 The Miracle LED Grow lite is feature rich yet inexpensive option and a great buy for the small size indoor garden. This light comes in different sizes and watts.
The smallest one is only uses 2 watts, runs on 120VAC power and can be fit in any standard E26/E27 sockets. One of the big reasons to like this grow light is highest lumen output at the lowest wattage and cost less than the other competitors.
This LED do not produce any ultraviolet rays and 30,000 hours estimated lifespan makes it a perfect selection for a small indoor garden.
3. Galaxyhydro 300w LED Grow Light (Full Spectrum)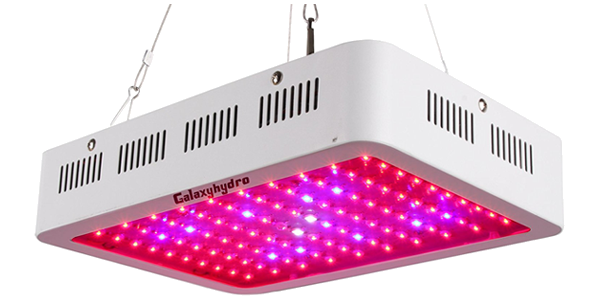 The GalaxyHydro is really picks the users attention worldwide, it has already crossed 1250+ reviews so far on Amazon.com. It's perfect for small and midsize indoor gardens.
The light comes with 9 bands suitable for growing flowering and vegetables. It also includes an Infrared (IR) Ultraviolet (UV) that puts useful light suitable for indoor plants.
It comes with built in fans to keep circuit board cool so you won't have to buy any extra fan for cooling the system. What makes GalaxyHydro light more attractive is the generous 2 years warranty, so you don't have to worry about for at least 2 years from the date you buy it!
Read our full review of GalaxyHydro 300w LED grow light.
Still Not Sure Which Product To Buy?
The main and key factor we didn't included here is the PRICE of the products.
For budget conscious people, keeping the costs down is a priority, and choosing a product that ticks the right boxes without breaking the budget is more attractive option.
For rest of the people (like me), having the best product in order to get the job done is the only thing that matters, no matter what the price is. So If you ask my recommendation about which product to choose from, I would definitely go with the 1st product in the list!
Conclusion
Delighted to have you here at the conclusion of this article! We extend our gratitude for investing your time in reading our LED grow reviews.
Choosing the perfect LED grow light to cater to your needs and facilitate the rapid and fruitful growth of your indoor plants while staying within your budget is entirely up to you.
Since consumer products continually evolve, different manufacturers may introduce new and updated models from time to time. Therefore, we'll be diligent in keeping this blog post up-to-date.
If you believe we might have overlooked a particular model in our list, don't hesitate to reach out to us. We value your feedback and aim to be as responsive as possible to incorporate your valuable input.
If you are looking for Best Full Spectrum LED Grow Lights, don't forgot to click this link.