Nothing is more beneficial than adding quality compost to your garden.
Composting is kind of easy but people love to do it in different ways. But then, we are going to draw our attention to the Yimby tumbler composter which is known to be of best value.
A compost tumbler is a container that is used for mixing the compost. People make compost on the inside of the tumbler then turn it in order to ensure that the compost is being mixed up.
There are so many tumblers out there in the market, and most of them have common features like dark colors which can aid in the absorption of heat to the inside, to help in the process of composition. They also have chambers where you can place your compostable contents and they can be turned in order for the materials to mix up.
Regardless of the fact that most compost tumblers, do the same work of helping in mixing up the composts, they choose to go for the Yimby Tumbler Composter.
Review of Yimby Tumbler Composter
This is the unique kind of compost tumblers which possesses a variety of features. It has two chambers whereby one is filled and then the other is used for curing which makes it so easy for conversion of kitchen or garden waste into compost that can enrich the soil.
Once you load the compost materials, lock up the door and then turn a number of times, preferably 2-3 days for two weeks in order to give you soil-enriching compost.
Why choose Yimby Composter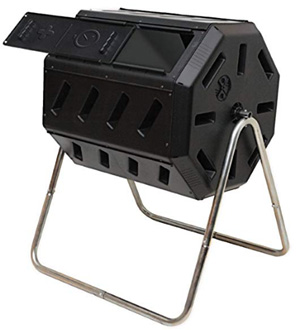 The Yimby compost tumbler efficiently does the task of mixing the compost and it's for this reason that you should put it in your garden.
Because of its tumbling design it becomes very easy for mixing compost, the door is closed and all that is required is to turn it a couple of times for 2-3 days and you will have a perfect fertilizer in a maximum of two weeks which is very little time compared to other methods of making compost manure.
It's made from recycled plastic and has a barrel which is made up of two chambers where your compost contents are put to create compost manure.
Once the contents have been finished from one chamber, they are then replaced by the ones waiting on the other.
The built-in hands holding the door makes it so easy for it to make turns. This simple way is what is so effective and efficient when it comes to creating compost for your garden.
It's so easy to use since all you are needed to do is just to spin the barrel a few times and in 2 weeks you will see the magic.
The composter is sealed and this prevents the rodents like rats from getting in to eat the compost which may affect the production of compost. Not only does it do that but also reduces the escape of any odors from the chambers. The 37-gallon capacity makes it so enough to cater for all your needs.
It has holes that help it in breaking up the clumps in the chamber and allowing oxygen to be mixed up with the rest of the compost.
Its frame is made of steel which prevents any form of corrosion and no degrading can occur under direct sunlight.
Features of Yimby Tumbler Composter
Two separate sides Chambers which makes it so efficient
It takes very little time to make compost
37-gallon capacity
Constructed from durable BPA free, UV inhibited recycled polypropylene
Adjustable air vents as well as deep fins to break up clumps inside the chamber
Customer satisfaction
Most customers are so much satisfied with this tumbler, they say it's so easy to put together and start using it. They also loved the fact that once you are done with one compost you add another from the waiting chamber which seems to save time according to them.
Advantages and disadvantages of Yimby Tumbler Composter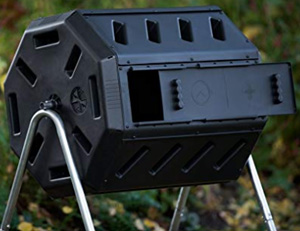 The compost tumbler is sealed using steel which makes it durable and prevents it from corroding.
The aerated barrels contains holes which allow oxygen to get into the compost to be mixed with it and thus makes composting to be easier and its large capacity enables it to cater for the needs of any gardener. It's also resistant to rodents, for example, rats.
For some customers, the Yimby tumbler composter feels so heavy when full since it has a large capacity, sometimes it can be so hard to put together since it comes in many parts which can take your time to join them into one.
Common Questions Asked about yimby tumbler composter
1. Is yimby tumbler composter bear proof?
A big animal like a bear can easily drag it into the woods and destroy it.
2. What is the best mixture to put in the composter for a brand new Yimby tumbler composter?
You will have to consider putting more carbon and not nitrogen materials.
3. Are there any tips for usage during winter?
You can keep adding it even during winter, even if the temperatures are low, and this makes the compost still fresh and therefore it will stay like that until it starts being warm.
Should you Buy yimby tumbler composter?
If you really need something that can make your garden dream needs a reality then you should look no further than Yimby tumbler composter because of its portability and efficiency.
It's a major contender when it comes to manufacturing of compost without much struggle and it really does the job well, regardless of the fact that it may have some shortcomings.
Video Review of Yimby Tumbler Composter