So you have got your cannabis ready to cut and use, but you don't have proper tools i.e. trimming machine to trim leafs or you are looking to buy the best marijuana trimming machine or Trimming Scissors?
Then you have come to right place, we have a list of best bud trimmer you can buy in 2018. The list is based on features, quality of products, price and many other factors.
So without a further-ado here is the list of best trimming machine with small reviews of each item.
iPower GL TRIM BOWL 16M 16-Inch Trimmer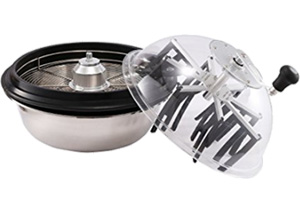 If you want the cleanest possible cuts at the lowest possible price, then this unit from iPower is the way to go. Packed inside of this unit are several different blades which act as if you have 30 scissors at your disposal.
One of the major highlights of this product is the fact that it has a clear top to it.
This ensures that the user can look inside the iPower trimmer to ensure that they are cutting their plants perfectly.
The blades inside of this model are strong enough to cut twigs, leaves, and help to safely remove buds from several different plants.
Cleaning out your iPower trimmer is a doddle. Just remove the top, remove the blades, and give them a scrub down.
However, the cut is going to be so clean when you use this that we doubt that you are going to need to do that all that often.
The fact that this is a hand unit helps to keep the price down (the handle is removable to ensure that you can store it easily).
However, if you wish, you can purchase a separate motor which will speed up your plant trimming even further.
Clean Cut M-9000S Series Bowl Leaf Trimmer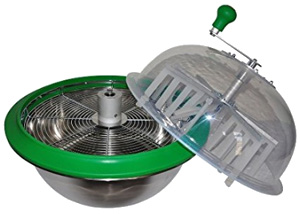 The Clean Cut trimmer is perfect for those who want the cleanest possible cut. Inside, you will find the power of thirty scissors.
These combined will effortlessly cut through anything that you throw at it.
One of the things that we absolutely love about this product is the fact that it comes complete with a solid metal gearbox.
This is something which is seriously built to last. In fact, the eighteen month manufacturer warranty you get thrown into the package shows this.
You can easily adjust the cutting blade to get the right size of cut. All of the blades inside of this product are removable to make it easier for you to clean!
GreenThumbPro 2 Pack (Straight & Curved Blade) Hand Pruner Shears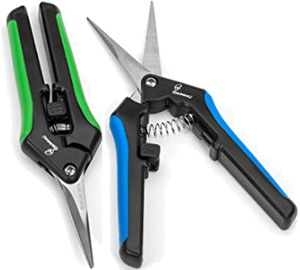 If you want one of the cheapest, yet most effective, ways in which you can prune items in your garden, then this 2-pack of straight pruners should be right up your street!
They may be cheap, but these trimmers have been perfectly designed.
If you have a lot to cut, then you will be pleased to know that these units have been designed in such a way that your hands are not going to tire out. The handle is surprisingly ergonomic.
One of the things that we really loved about this set of blades is the fact that they have an awesome micro tip blade at the end.
This gives you the most precise of cuts. In addition to this, they are long reach blades which should allow you to reach the hardest to access areas.
The company behind these pruners is so confident that you will love them – they even give you a money back guarantee! You can't turn your nose up at that, can you?
Stainless Steel 6.5-inch Micro-Tip Pruning Leaf Trimmer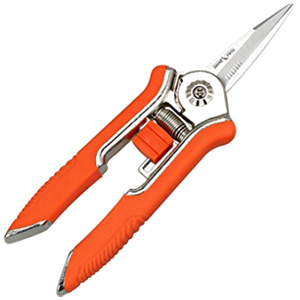 These Flora Guard Micro Tip Gardening Shears may be cheap, but they cut anything. In fact, these are probably some of the cheapest shears on the market at this price.
If you want a precise cut, you will struggle to get something better than this. They have a long reach cut which should allow you to easily access some of the harder plants in your garden, and still be able to cut them with precision.
The zinc alloy handle these shears come equipped with are incredibly durable and feels good in your hands.
They are anti-slip which should ensure that no matter how long you are cutting, your hands are not going to tire out!
To cap it all off; these blades are not going to rust. They have anti-rust protection built in. you will also be surprised at how little they need to be oiled when you are attempting to keep them in prime condition!
CO-Z Automatic Bud (2 in 1) Trimming Machine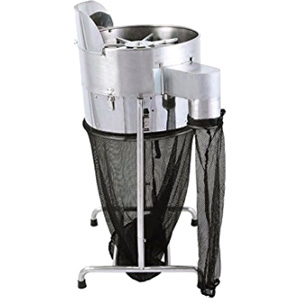 If you want an automated bud trimmer, then you are probably not going to get better than this offering from CO-Z.
The high speed blade packed into this unit will trim the plants with precision before ejecting them out of the bottom.
There is a 180 degree tilt table built into it which should ensure that you can clean it with ease.
One of the real highlights of this product is the fact that you can select one of three speeds.
This offers you full control over the type and quality of trim.
This unit has been built for constant use. You can remove the 'cut' plants and flowers from the bottom without switching the machine off.
TRIM-DADDY Handheld Electric Power Bud Trimmer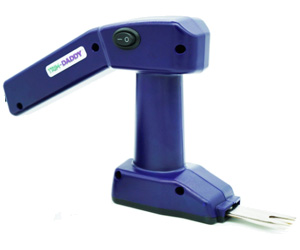 The Trim-Daddy is surprisingly cheap for what you get.
This is a pair of automatic scissor trimmers. It can cut through leaves, herbs, and bud with ease. The motor has been built to last. You get a 1 year warranty on the motor.
One of the things we really love about this offering from Trim-Daddy is the fact that it is incredibly precise considering it is a machine.
In fact, it has the same amount of precision that a pair of scissors has. If you are cutting a lot throughout the day, then this is just the sort of thing you will need.
This is a unit which has been built to last. The brushless motor design does not overheat.  The blades are self-cleaning, and you can even replace them if you wish.
If you must clean the blades, then you can dip them in a cleaning solution while the unit is turned on. How convenient is that?
It weighs in at just 1.6lbs in weight, ensuring that you can carry this around throughout the day.
Etemproof Model X 16-inch Open Top Trimming Machine
This is a commercial grade bowl leaf trimmer. It is one of only a few on the market which is fully assembled and ready to go right out of the box.
The sixteen inch opening ensures that you can easily get all your plants in there. The combined gearbox and handle ensures that trimming them is as easy as pie.
Basically, with this bowl leaf trimmer from Etemproof, you have all the power of 20 scissors in a single unit.
This is perfect if you are looking to remove excess leaves and twigs from several different plants.
You can also use it to trim down herbs for a variety of different purposes.