There were so many benefits of using grow tents, the major one being you are able to run a veg and bloom area in the same room. They can easily move from one place to another easily, it's great if you are a renter moving a grow tent is easy.
Ventilation holes are already there in to grow tents for fans and it's easier to contain, control and required less space if you are use small grow tents.
I live in a small apartment and I don't have much spare in my house to grow plants, so I decided to find a small grow tent which can fit in my small room.
So I was on a hunt to find a small grow tent for growing my plants indoor, I found so many variant but the list is reduce to below 7 for my particular need.
Let's take a look at our Top 7 Small Grow Tents Companies in 2023:
The below grow tents (not in a particular order) are small and cheap, their quality is good enough to long last for years (if you properly take care of them) they are great for growing small plants indoor.
Few of them are not small but good enough to fit inside the room and take small space.
You'll find a quick description (Review) of each item with their pros and cons, as well as some pricing information too.
1. Gorilla Grow Tent LTGGT22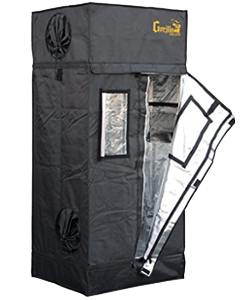 Gorilla tents are reputed and most trusted name in grow tent manufacturing, they produce professionally designed grow tents that are ideal for experts and beginners.
This tent from Gorilla is bit expensive but quality comes at a price, isn't it? This tent doesn't take much space and height can be adjusted with the patent pending adjustable extension poles (sold separately) allowing you to increase the height of your grow tent from 5′ 7″ to 6′ 7″.
The tent is very sturdy and strong, you can hang grow light inside easily.
Other features include strongly reinforced seals, tough zippers, and broad viewing windows and you can be sure your plants are well-protected. Overall it's a very good grow tent you should try.
2. MILLIARD Horticulture D-Door Hydroponic Grow Tent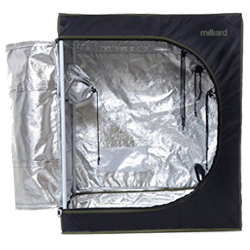 This grow tent from MILLIARD Horticulture is a great product with cool features and is the smallest grow tent we reviewed.
This small grow tent is redesigned to meet the customer satisfaction, it comes with a sturdy tubular metal frame with 2 heavy duty bars and 2 robust metal rings that can be use for setup lights and other equipment inside.
Large, strong and durable zipper allows you to set up plants and growing equipment without any difficulties, double zipper flaps help to prevent light leaks, and double ducting closures.
The tent has an exceptional array of ducts and vents for cable management and air flow makes it brilliant at keeping the moisture and temperature you've set for days.
The tent is build with thick material and does have a smell that remains for a few weeks.
Very good Mylar (inside reflective material), it gets really bright inside. If you use a 300w grow light it will cover both heat and light for this size of small tent.
3. Apollo Horticulture Mylar Hydroponic Grow Tent for Indoor Plant Growing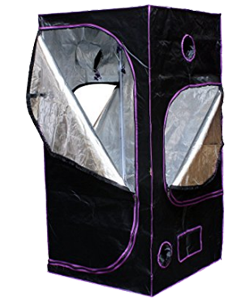 This grow tent from Apollo Horticulture is durable, efficient and safeguard your grow. This grow tent is costlier than any other small grow tents we reviewed on this page and it is rightly so and it's worth the price IMO.
The tent uses thick and reflective material reinforced by the metal poles ensures security and solidity.
Due to double stitching the light is contained in the tent and extend the durability and life tent, it also prevents any leakage and stop pests from getting in grow tent.
The zipper is good and long which made is easy moving in/out of tent easy.
The tent has sufficient holes and vents that's make sure your plant get good enough fresh air to grow quickly, two vents are on both sides, while different size holes on almost all sides, top and bottom.
There is also a side door zipper just for when you want to look. Bottom line is that it is a OK product at a bit high price that comes with a 30-day hassle free money back guarantee.
4. Oshion Indoor Hydroponics Mylar Grow Tent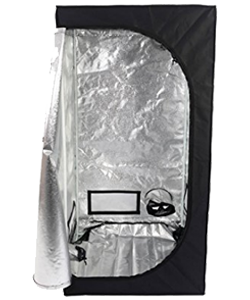 With a reasonable price and built with 600D super thick fabric material that is tear proof, the Oshion Mylar Tent is as perfect in your room as it is on any extreme conditions.
There are features like 99% reflective Mylar lining gives an efficiency lighting setups of any power configuration for indoor growing. It includes a nice removable & water resistant Mylar drip tray.
Installing a small grow tent should be fast and hassle free and Oshion has done that and included easy-click pole and corner connections so that you can install the grow tents fast without needing other people to assist you.
Intake and exhaust ports are great and helpful for plants to grow nicely. Multiple zippers are sturdy, there is also a window zip on the front that helps amplify plant's energy store by filtering out white light.
5. ECO-WORTHY Mylar Hydroponics Grow Tent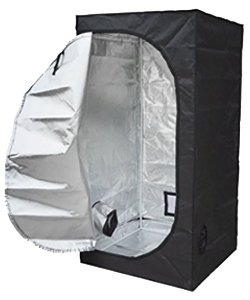 The heavy duty 210D lightproof oxford cloth for exterior material body combined with high reflective water-resistant and light protection diamond Mylar for interior material makes this an incredibly good small grow tent companion.  (Few people complains light leak near zipper, so make sure you don't get the one).
There is white paint coated metal rods frame with sturdy metal connectors and 4 poles for hanging lights and fans for your plants. This tent is suitable for using 400W, 600W, 1000W grow lights; you can even use the larger T5 lights.
There are some nice addition come with one removable reflective waterproof floor tray and filter straps. It's significantly cheaper than the Apollo Horticulture making this Eco-Worthy grow tent a great value for money.
6. Growsun Horticulture Indoor Plant Grow Tents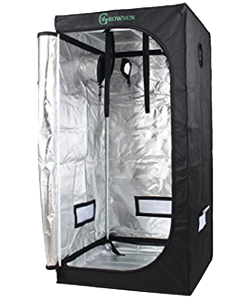 The Growsun have features similar to the Eco-Worthy grow tent we reviewed above but with some extra features and cost you few more extra dollars. You can find 12″ by 4″ vents which are located 12″ above the floor.
It has a nice design that improves air circulation in the tent. The tent is strongly supported by steel frame instead of plastic one, its stronger powder coated to hanging grow light and/or carbon filter.
There is observation window that can be use to peek the plants inside without having to open the door.
The tent material is more reflective and durable with 600D thick tear-proof fabric that ensure heavy enough to keep stable. The package also includes a removable floor tray.
The entire lining is built with Mylar to ensure 100% light-proof, water-proof and help increase the intensity of grow light and preserve heat.
What's makes this small grow tent more attractive is 6 months warranty and 30-day money back guarantee.
The only issue we could find is that few customers' complaint about the few light leaks & pinhole size light spots coming through zippers and random spots on tent.
7. Giantex Indoor Grow Tent Reflective Mylar Hydroponic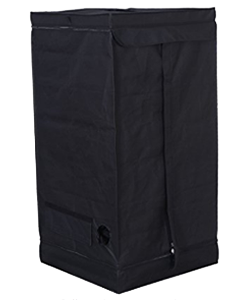 This is a smaller grow tent compare to the Growsun tent, the small size with all basic features that a tent needs to have are already in this item at an amazing price makes this item appear in this list.
The quality of the material is great, featuring heavy duty exterior fabric material, sturdy stainless steel powder coated frame, highly reflective water-proof foil for inner lining and multiple vents for fans & filters makes this small tent a perfect fit for a small indoor grow.
In terms of the assembling, you'll find it very easy to put together this tent, although the material is of great quality and the zippers and stitching are nice and strong but be careful while assembling because you can strike small hole when pulling over the bars.
A great cheap small grow tent for beginning your growing journey.
Which of these is the ideal grow tent for you?
There are a few factors to consider while purchasing a small grow tent, let's break them down:
Size of the Tent: the size of the tent should be small to fit anywhere in your room easily without cluttering your room too much.
Features: it should have all the basic and necessary features, such as thick and durable fabric, reflective material inside, vents and zippers, and sturdy and durable frame
Price: this is an obvious factor for any product you want to buy and not just the grow tent, price should be fair enough and should be standard market price with all the necessary features mentioned above.
Let Us Know What You Think
We'd love to know your experience with any of these small grow tents (if you already own any of these) or if you think we've missed one and that should be in this list. We'd love to know.