The name for this one is quite a mouthful, but is it as good as they say it is?
Grow lights are recent entrants in the market and with every manufacturer claiming that their LED light is the best, well, you can never know whether you are getting a good deal for money unless you look at the user reviews.
The MarsHydro Mars 600 LED full spectrum grow light is a true 278 watt panel grow light has a high rating on Amazon, with 4.5 stars out of 5 from more than 1000+ customer reviews (as of writing this review).
It is not cheap, since it may cost you a few hundreds to buy, but if you are going to have it for a long time and enjoy its incredible features, then the price if worth it.
When I decided to review this grow light, I decided that if you will get value for your money, then it is a reasonable deal.
Backed By a Good Experience
The MarsHydro is a reliable brand name that has been in the grow lights market for more than 7 years. According to their website they have sold grow lights to many growers from all over the world.
This assures a buyer that whatever they are buying is good, otherwise there would be many negative reviews for it. So if you buy it, you will be buying into more than seven years of experience.
Backed by Three Years Warranty
If you grow your marijuana indoors in California, well, you are in luck since this grow light comes with a one year warranty as well as a money back guarantee of 30 days.
In addition, they have a service center in California. I always say that if the manufacturer is confident enough in their product, they back it up with a full money back guarantee because they are sure it will not be returned.
The Coverage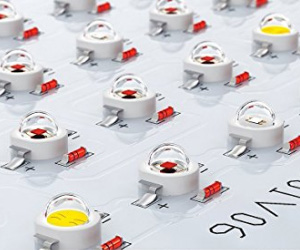 Wouldn't do you much good if it is that big and expensive and have just minimal coverage, would it now?
The MarsHydro 600 watts Full Spectrum LED Grow Light will cover a grow tent of 100 cm by 100cm by 180 cm, which is quite a big space to grow your marijuana.
The light is intense at this coverage, good enough for vegetation as well as flowering and fruiting.
Light Spectra
It is referred to as a full spectrum grow light with ratios of blue, white and red spectra for the vegetative and flowering stages.
As for the usage, it is recommended that you keep the light on for 10 to 12 hours during the flowering stage and 18 hours in the vegetative stage.
No matter how long you leave it on, it will keep cool as it has a robust cooling system.
Build With Quality Materials
It has a heatproof tube thus zero risk of catching fire. It also has a plug that is made with UL and VDE Certified wires. This, plus the sturdy build gives the grow light a lifespan of 50,000 to 100,000 hours.
These lights seem to be a great choice for those looking for a light suitable for their small indoor grow requirement i.e. only requires 600 watts of power.
Tested, and Proven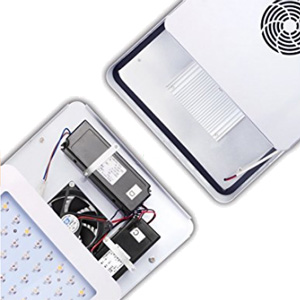 When you make your order on Amazon for your MarsHydro Mars600 LED Grow Light Full Spectrum, it will be tested 48 hours before leaving the factory for shipping to ensure that everything works perfectly.
In addition, they have excellent customer support where emails will be replied to in less than 24 hours as they have an 8-hour a day reply service for customer care.
Mars Hydro lights run 60% cooler than HID lights, so you won't have to worry about burning your indoor plants using these lights thanks to its silent-forced air fans and massive pin-cushion heat sinks.
As this system makes the system cool, this results in much longer life of the light.
Pros & Cons of MarsHydro 600 Wats Grow Light
Pros
12-band Full Spectrum LED with IR
Daisy Chain Function
Good for Small Grow Tent
Energy saving – Use Less Power compare to other 600W LEDs
Less Heat and Long Life
3 Years Authentic Warranty
Cons
No Waterproof
No UV/IR
No Timer
Why I Would Recommend This Anytime
That is right. If you are an indoors grower like me, I would recommend the MarsHydro Mars600 LED Grow Light Full Spectrum for you anytime.
It is costly yes, but what matters is not the cost but the value that you will derive from it. With up to 100,000 hours of lifespan, well, this is perfect.