Indoor growing is quickly becoming a popular way to know exactly how your food and herb is produced, saving money on your bills, and enjoying a variety of produce that may not be available at your local grocery store.
One of the biggest challenges with indoor growing is providing the appropriate light at the right times. The development cycle, stage of growth or kind of plants you're cultivating also can be an important determining factor.
Many grow lights compromise on either the spectrum of light they provide, the intensity and focus of the light, or both. This makes it very difficult to support your garden with the growth and light they require.
The newly released ViparSpectra Reflector Series LED Grow Lights offer many advantages for a wide range of growing areas that can be safely and effectively multiplied many times over, depending on the size of your desired indoor garden.
Available in several sizes ranging from 300 watts, all the way up to 1200 watts, these fixtures are quickly becoming a popular, budget-friendly option for all kinds of growers.
VIPARSPECTRA 900W is Full Spectrum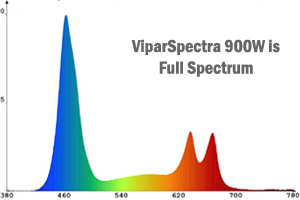 Each plant is different in terms of the natural light it requires for growth, from the seedling stage all the way up to harvest, which makes choosing a sufficient grow light a huge importance.
A major advantage of the ViparSpectra Reflector Series is that, since it provides a full spectrum, you can use it for any type of plant you choose. This way, no matter where your plants are in their growth cycle, they're getting the appropriate light they need to flourish.
While many grow lights do provide a good spectrum with an ample amount of intensity, they're often not designed well, and draw the majority of the light toward the center. This can make for uneven coverage with "hot spots" in certain areas.
The Reflector Series has been specifically designed and engineered to provide a great balance with mirror-like reflectors all around the diodes, to offer as much spread out density and coverage as possible.
By taking one look at any of the lamps, you'll notice that the diodes are grouped in clusters evenly across the board.
High Light Intensity and Quality
The 5 watt LED chips work intuitively with the included 300 watt reflector to provide light comparable to natural sunlight, which is way too bright to stare at with your naked eyes.
Although they're not COB or the latest high-end, name-brand diodes, they seem to work well at providing plenty of usable light.
Low Energy Consumption
LED grow lights notoriously use much less energy than their counterpart, HPS. The ViparSpectra 900w panel uses a surprising average of only 418 watts, which when compared to other traditional kinds of lighting, is nearly half as much as you would expect.
Self-Cooling Fans and Heat Sink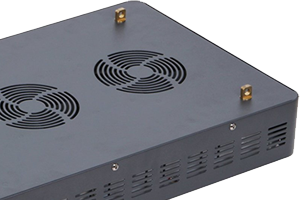 Conventional lighting heats up quickly and with much higher temperatures, making LEDs a superior choice, not only because they offer dynamic, quality lighting, but also because they're significantly easier to cool than HID lights.
The ViparSpectra Reflector Series is equipped with multiple 4.72 inch fans – each one includes its own individual heat sink that properly dissipates heat without issues.
When the fixture is powered on, the fans will automatically run in order to provide the ideal conditions for the most efficiency.
Using these LEDs, you likely won't need additional cooling systems in your grow room or grow tent, or any fancy exhaust system if you're simply growing on a small scale.
You can use multiple fixtures together, although there isn't a daisy-chain feature – it would have been a nice thing to see. We've found that daisy chaining tends to make for less cords and improved airflow in tight spaces.
Viparspectra Quality Guarantees
ViparSpectra has provided a warranty on the Reflector Series for 3 years, which is a considerable amount of time for it to be guaranteed to work perfectly as advertised without a hitch.
This confidence in your satisfaction goes a long way in ensuring its quality. You'll also have 30 days to test it out, risk-free, and if you're not satisfied with it, you can return it and get a full refund of your money.
Conclusion
Priced much less than some more-popular panels on the market, the ViparSpectra 900W offers a decent blend of both affordability and quality.
Since they're available in a wide range of wattage ranging from 136 to 524 actual watts, you can equip your grow room with the perfect amount of LED power that you're looking for.
From hobby-scale to professional growers, or those who need a supplemental boost in lighting, the ViparSpectra 900W seems to offer a good solution.
Recommended Read: