The SuperBox CLF Smart Grow Box has found a really good fit with people wanting a healthier alternative to grocery store food. Homegrown food has become a very popular thing these days, with more and more people wanting to eat healthier. It is also a much safer way of getting your fresh herbs, spices, and vegetables. Unfortunately, not many plants can be grown year-round, unless you live in certain climates.
The SuperBox CLF Smart Grow Box
The SuperBox CLF Smart Grow Box is a fully self-contained indoor growing system that can be used in any climate, all year-round. The system can be configured as either hydroponic or soil-based. The SuperBox Smart Grow Box creates the perfect growing conditions for any type of plant. It is designed to allow you to go from seed to harvest all inside the unit.
The cabinet is made from all sturdy metal materials that help to keep everything inside safe from and external conditions. All of the air coming in is heavily filtered to ensure that nothing bad comes inside that could harm your growing plants. There is also an internal circulation fan (variable speed) that keeps the air moving inside to produce optimum growing conditions.
The key to the grow box is the powerful 200 watt warm spectrum CFL lighting system, which is paired with a Smart Tech control system. Together they provide your plants with the precise amount of light and water to ensure optimum growing conditions. Whether you choose a hydroponic type growing system or a soil-based growing system, both will thrive within the SuperBox CLF Smart Grow Box.
An activated carbon filter helps to provide air scrubbing to keep the air inside the cabinet clean. Sophisticated monitoring equipment is also in use to help maintain the conditions inside the cabinet. A new smart app is also included that allows you to manually adjust the light and watering schedule to ensure optimum growing conditions.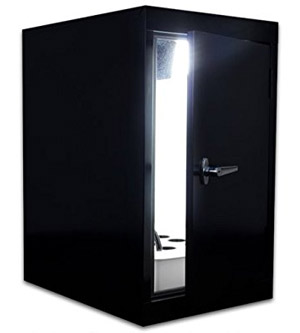 The SuperBox CLF Smart Grow Box can easily be configured as a hydroponic system or a soil-based system depending on your preferences. Each one has its own set of benefits and pros and cons as to which is best for you. So, when you make that decision for yourself, you can choose which of the configurations of the unit that works best for you.
SuperPonics Hydroponic System – Hydroponics or growing plants without soil has been around since the mid-1800s. The hydroponic version of the SuperBox CLF Smart Grow Box comes with a specially designed 8 compartment growing container. The system delivers nutrient-dense water into the container holding the plants. The water reservoir holds up to 5 gallons of water and is constantly fed by the internal water pump. The automated watering system means that you do not have to constantly watch to ensure optimum growing conditions.
Soil-based growing – The soil-based system accommodates up to six one-gallon growing pots. The growing pots can either be filled with regular potting soil or any type of soil substitute medium as an alternative. The automated maintenance system provides the optimum supply of water and nutrients directly to the plants.
Key Features of the SuperBox CLF Smart Grow Box
Enclosure made from sturdy materials and lockable access door
200 watts CLF Lighting System w/Smart control technology
Variable adjustable fan for improved air circulation throughout the enclosure
Removable internal panels are made of reflective material which prevents mold from growing
Digital hygrometer and thermometers inside for monitoring internal conditions
Runs on any standard 110v electrical system with a single power cord
Pros of the SuperBox CLF Smart Grow Box
The smartphone app gives you full control of the watering and lighting schedule
The enclosure is large enough to handle six one-gallon growing pots inside
The powerful 200w growing light and automated watering system increases the growing time by 5x
Cons of the SuperBox CLF Smart Grow Box
The price tag is very steep and may not be affordable for people on a budget
What are other people saying about it?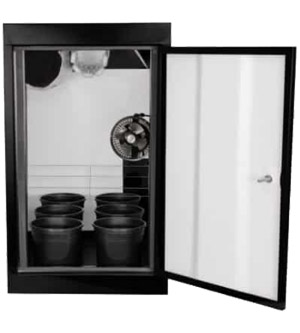 As part of our preparation for this review of the SuperBox CFL Smart Grow Box, we searched online for some comments posted by consumers who claimed to have purchased and used one of these units. We came across several and here is a summary of what some people have posted online:
According to numerous consumers who posted online, "the SuperBox CFL Smart Grow Box delivers as advertised"
Another buyer commented:
"The SuperBox CFL Smart Grow Box is a high-quality product that lives up to the promises of the manufacturer" this was shared by a number of consumers that posted online.
Conclusion
The SuperBox CFL Smart Grow Box is a high-quality indoor plant growing product that has so many possible uses these days. For anyone looking to growing some herbs, vegetables or legal marijuana plants indoors, this grow box is perfectly designed for it. It is the perfect size for growing up to 6 small plants that are less than 30 inches tall.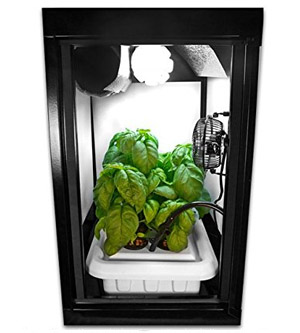 The enclosure is 30″ T x 18″ W x 24″ D and compact enough to fit almost anywhere that there is a 110v power outlet. All of the internal equipment is designed to provide your plants with the optimum growing conditions. This includes a powerful 200w grow lighting system and watering systems that can easily be controlled by using a mobile app loaded on a cell phone or tablet.
This fully maintenance-free growing system is designed to be really easy for anyone who is looking to grow their own plants from seeds to harvest-ready plants. The system was created to be completely self-contained and the combinations of the powerful grow light and continuous supply of nutrient-dense water.
So, if you are looking for a way to set up a small scale indoor vegetable garden, the SuperBox CFL Smart Grow Box is the perfect place to start. Even if you are on a tight budget, the amount of money you will save by growing some of your own fresh veggies and herbs will help pay for it in the long run. You really should take a look at this unit for yourself.