These days growing plants indoor is both easy and fashion trends, thanks to the easy access and advancement in indoor growing technologies and availability of wide range of products.
No matter where you live, a small house or room, growing something is easy, thanks to the small and portable greenhouses available in the market.
A small greenhouse not only can be placed anywhere (indoor or outdoor) but also you can keep grow plants year long without worrying or investing setting up large patio etc.
Listed below are some of the best and affordable small greenhouses you can buy now! The products listed below are easy to assemble, portable, cheap not have enough space to grow your preferred plants.
1. Small Walk-in Greenhouse – Best Selling Small Greenhouse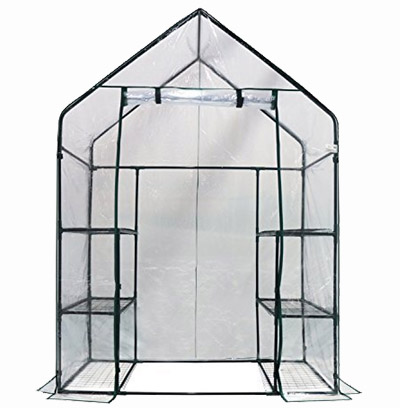 The Homewell Mini Walk-in Greenhouse is a multipurpose system that can be used in a number of ways. This heavy-duty 6-tier, dual 3-shelf system is also tall enough for a person of average height. Unlike most single rack configuration, this dual rack system has two 3-shelf racks that are tied together at a peak that makes it so that anyone who is 6-½ ft tall can easily walk inside this greenhouse.
The heavy-duty tubular steel frame features an ultra durable powder coat finish for an extra-long life. The whole system is covered from top to bottom by a sturdy, clear polyethylene plastic cover. The cover helps to keep the heat, humidity in and cold out during the harsh winter months. It also has a large zippered front opening the rolls up and ties securely at the top. You can also completely remove the cover and use it to show off your favorite plants on your patio or deck.
Specifications:
Good flat space available – Dimension – 56″ Wide x 29″ Deep x 77″ High
5 feet in height
6-tier, dual 3-shelf greenhouse
PVC clear cover
Weight 75 lbs
Zipper Door Entrance
2. oGrow (OG6834-S) Walk-in Greenhouse with Shelves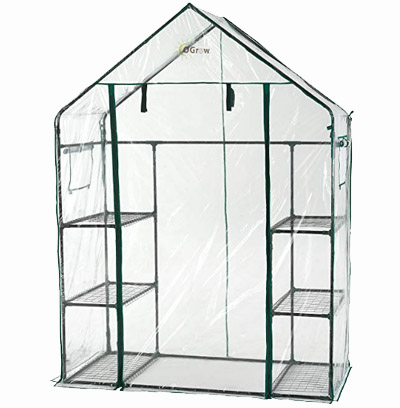 The oGrow OG6834-S Greenhouse, Green is heavy-duty and yet still light enough to be portable. It is constructed of high-strength tubular steel that has been powdered coated to give it a nice look and a very durable finish. It is very easy to assemble and can be anchored down to keep in steadily in place against a stiff breeze.
It is designed to be walked into with its dual three-tier wire mesh shelves on either side. The shelves are very sturdy and able to hold up to 75 pounds of weight each. The open wire shelving will allow air and water to flow easily around your plants. The clear polyethylene plastic cover that completely covers the walk-in rack system helps to keep the wind, cold and elements out while allowing you to extend your plants growing season.
Specifications:
Walk-In 3 Tier 6 Shelf Portable
Dimension – 77″ H x 56″ W x 29″ D
Enough growing space for plants and easy access & ventilation
Weight 15 pounds
3. Pop-Up Plant House – Best Small Greenhouse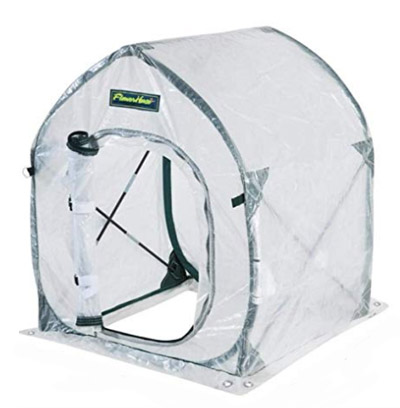 The Flower House Planthouse 2 is a unique system that is designed to be used by home gardeners who are looking for ways to either extend the growing season for their plants or to protect them from the harsh weather conditions during a typical growing season. The sturdy little grow house is designed similarly to a pop-up tent in that it can be put up and taken down in just a few seconds.
The fabric is a sturdy translucent PVC material that provides both UV protection and is rip-resistant. The sturdy and yet flexible fiberglass support poles give it a unique shape. It has a large zippered screen door that allows easy access to your plants inside and will allow plenty of ventilation. It is a fairly good size (30″ T X 24″ W X 24″ D) is large enough to cover a couple of nice size shrub or bush.
4. Home-Complete Walk-in Greenhouse (4-Tier Indoor Outdoor Sturdy Portable Shelves)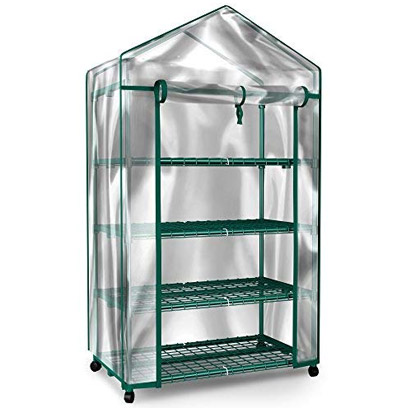 This sturdy, all tubular steel construction is both strong and lightweight at the same time. It features four spacious shelves that can hold up to 24-pounds of plants each. The design of the shelving allows you to adjust the heights of each to be able to accommodate a wide selection of plants. Each of the shelves has an open wire construction to allow the air and water to flow in and around your flower and seedling trays.
The four sturdy casters at the bottom of each post mean that you can easily move it around wherever you plan to use it. It comes with a lightweight translucent PVC cover that fits nicely all around shelve. You can also purchase heated shelving mats or grow lights and attach them to the framing of the shelving unit.
5. Quictent Large Portable Greenhouse (95″ W x 36″ D x 36″)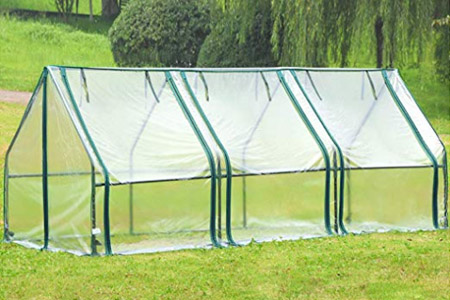 The Quictent Mini Cloche Greenhouse is an extra-large portable garden structure that is enough to cover over a small in ground garden or large raised flower boxes. It is segmented into three different sections and each one has it's own large zippered front opening that can be rolled up and tied at the top to keep it out of the way. It has a high center peak so that it can fit over the top of taller bushes, shrubs, and potted plants.
It is constructed of very strong and yet lightweight tubular steel that has been powder coated for longer life and gives it a nice look. It is completely covered by a durable, waterproof and wind-resistant re-enforced polyethylene plastic cover that helps to keep the warmth and moisture inside and keeps the cold and wind from getting inside.
6. Ikea Small Greenhouse (Indoor/outdoor)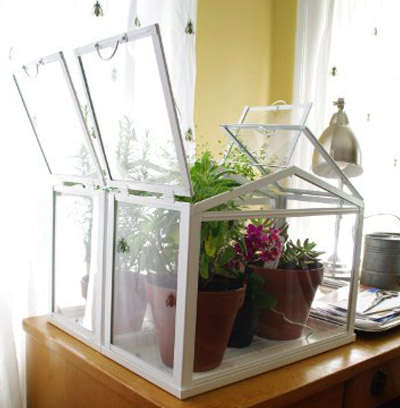 The Ikea Greenhouse, Indoor/outdoor, White mini-greenhouses are designed to help gardeners to control the environment in which their smaller potted plants and seedlings are subjected to year-round. They are made of high-quality materials like steel and polystyrene for strength and durability. The steel itself has a strong and durable white powder coat finish to ensure that it lasts for many years of use.
The compact size of this mini-greenhouse (17 ¾" W X 8 ¾" D X 13 ¾" H) is perfect for placing on a shelf, window sill or outside on a patio or porch. It also has two lid-mounted vents that can be either partially open or fully open to allow air to be vented inside in the case that it gets too warm.
7. Quictent 2 Doors Portable Greenhouse (71″ W x 36″ D x 36″ H)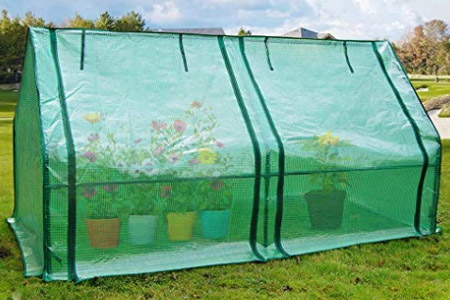 The Quictent Portable Cloche Mini Greenhouse is a high-quality mini-greenhouse designed to be used by backyard gardeners. The sturdy structure features all tubular steel construction and a durable powder coat finish for long-lasting use. It features a non-woven fabric cover that makes it breathable and yet water-resistant.
It has two over-sized zippered doors that roll up and tie at the top independently. The large footprint and the high point of the design (71″ W X 36″ D X 36″ H) make it a good choice for keeping small potted trees and other plants safe from the harsh elements of the winter.
8. Gosunny Portable Walk in Greenhouse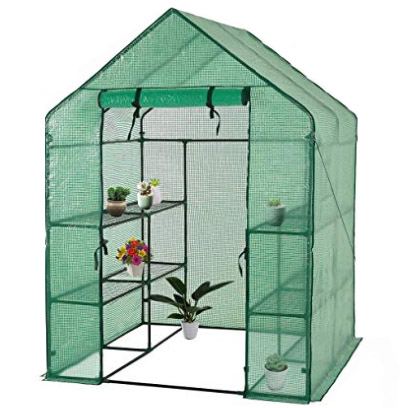 The Gosunny Greenhouse, Green is a high-quality mini greenhouse that is portable and yet sturdy enough to handle a large number of plants on its six total shelves. The dual three-tier shelving design is set up so that they are facing each other and a person can walk-in between the two. The shelves are sturdy enough to hold up to 75 pounds each and are of an open wire construction. This allows for air and water to pass easily in and around your pots and plant trays.
The construction features high strength tubular steel with an ultra-durable powder coat finish. All of the pieces are easily fitted together and heavy-duty reinforced polyethylene plastic cover helps to keep the heat and moisture inside during the cold months to help extend your growing season. The large zippered door in front gives you quick and easy access to the inside and also allows air circulation when needed. It comes with a complete anchor system it there is an issue with windy conditions.
9. 4 Tier Mini Greenhouse – Best Value Greenhouse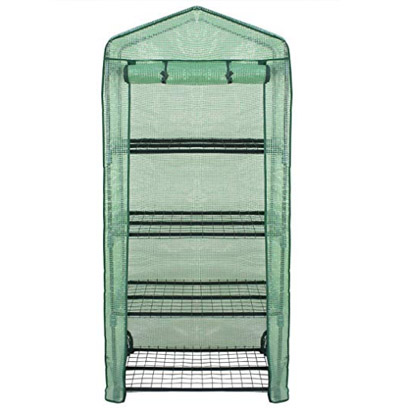 The Nova 4 Tier Mini Greenhouse is the perfect thing for the backyard gardener who could use a greenhouse. The sturdy powder-coated tubular steel construction makes it perfect for both indoor and outdoor use. Each of the four adjustable shelves features a wire mesh bottom which allows plenty of air and water to pass through.
The cover is made of a unique non-woven fabric that provides both UV and water protection. The cover also features a large zippered door that rolls and ties up at the top of the shelf area. Each of the shelves is very large and able to hold up to 20+ pounds of weight. The mini greenhouse is a perfect size ( 27.25″(l) X 19″(w) x 63″(h)) to be used on a patio, balcony, deck or out in a backyard garden.
10. Mini Pop up Greenhouse good for Small Indoor/outdoor Gardening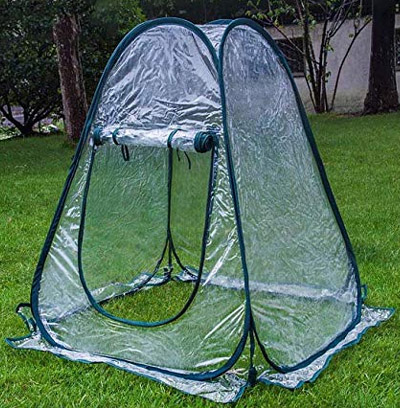 The AHOME Mini Pop up Greenhouse is a perfect little tool for the backyard gardener that lives in an area that the cold temperatures of the fall and winter cut growing season short. This pop-up greenhouse is designed similarly to a pop-up tent that people use for camping and hiking. The lightweight and highly flexible frame and durable clear PVC plastic material of the cover combine to make this mini greenhouse perfect for a backyard garden.
The compact size and unique shape of the  AHOME Mini Pop up Greenhouse makes it a good choice as protection for outside popped plants in the early Spring and late fall to prevent damage caused by frost or an unexpected snowstorm. It has a small zippered door that rolls up and ties up out the away for easier access to the plants inside. It allows the heat and humidity to remain inside while keeping out the cold and snow.